---
Date: Monday October 28 
Time:  2-6pm EDT/1-5pm CDT/noon-4pm MDT/11am-3pm PDT/10am-2pm AKDT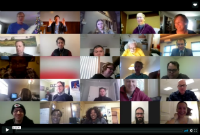 Where: This event will take place via Zoom video conference. We will email you more info after you register. 
Register below for We Own It's first national online summit for member-owners of electric co-ops and folks working with member-owners on electric co-op reform.  The meeting will include opportunities for connecting with others in the national REC Reform Movement, sharing experiences and knowledge, hearing success stories, learning, and more!
Draft Agenda for the Virtual Summit
0-60  Welcome, introductions, connections & relationship building. Everyone will quickly introduce themselves and have time for two one-on-one meetings with other attendees. 
1:00-55: Session 1: How to motivate & educate member-owners
1:55-2:50: Session 2: two options:
    
Campaign planning 
Coalition and Partnership building 

2:50-3:45: Session 3: two options:
Inclusive Financing for Energy Efficiency (PAYS)
Utility contracts

3:45-4  Evaluation, Next Steps & Group Goodbye
Cost
We are asking folks to pay a sliding scale amount of $10-50 for the event, but all funds will be re-invested back into campaigns of folks who attend the event!  We will discuss more about this during the event. 
Note: we want this event to be accessible to all, so if you are unable to pay $10, then please reach out to us and we will work to provide access. Email liz@weown.it with subject line: "Registration fee waiver for virtual convention"