---
Rural Electrification 2.0 Factsheet and Report written by We Own It, CURE Minnesota, and Center for Rural Affairs starting a conversation on transitioning away from fossil fuel infrastructure to clean energy at electric co-ops. 
Many rural electric cooperatives are caught between the push for clean energy and their stranded fossil fuel assets.  Even though, renewable energy is the lowest cost for electricity generation.  For example, Great River Energy (GRE),  a generation and transmission cooperative serving 28 electric co-ops in Minnesota, committed to 50 percent renewable energy by 2030. In a fact sheet, GRE stated, "Renewable energy, particularly wind, is Great River Energy's lowest-cost option for new generation resources... Great River Energy's average wholesale rates will remain flat in 2019 with projected increases below the rate of inflation for the next decade."
This report on Rural Electrification 2.0 by We Own It, CURE Minnesota, and the Center for Rural Affairs details five suggestions for policy solutions to address the problem and makes a preliminary examination of each of them. The policies range from regulatory action, to swapping a determined dollar amount per new megawatts of clean energy, to familiar financial strategies. While each of these potential solutions addressed could potentially move the needle on electric cooperative debt and transitioning to clean energy, there are definite advantages and disadvantages to each policy.
Since 2014, electric cooperatives have reduced their reliance on coal from 54 percent to 41 percent; however, they have also increased their natural gas generation portfolio from 18 percent to 26 percent. Overall, that's a shift from 72 percent to 67 percent fossil fuel generation. Meanwhile, nationally, cooperatives have only increased their wind and solar generation from 4 percent to 8 percent.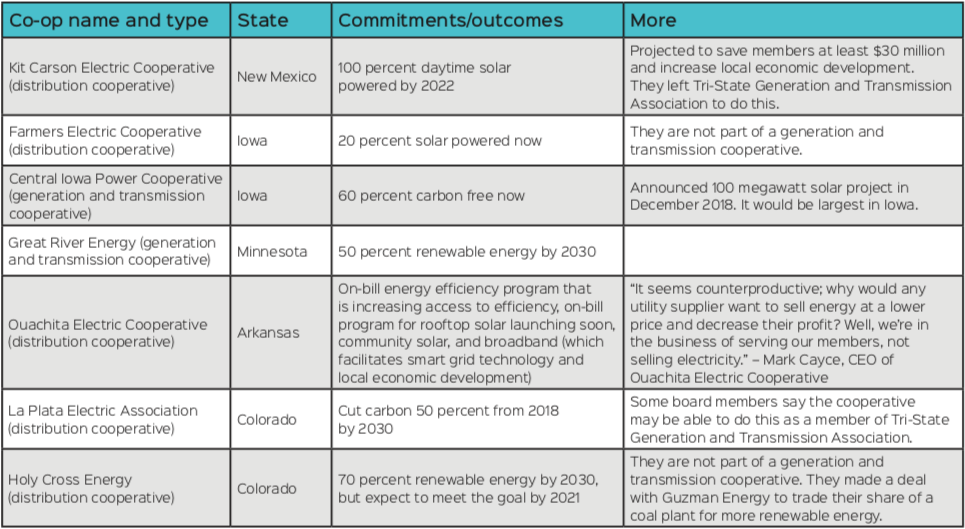 We need strong, forward-looking Rural Electric Co-ops that are ready to serve our rural communities for the next 100 years. We need our co-ops to deliver on their founding promise of member control and democratizing the rural economy. Relieving the burden of electric co-op coal debt is one way to make that happen.
Download the Factsheet and Report here or at the links in the left side bar.